GEOGREEN® ARTIFICIAL TURF
GeoGreen® is a dimensionally stable 'Replicated Grass' consisting of a Tencate K29 backing, with a urethane secondary coating which is heat activated to permanently lock fiber tufts in place.
Southern Arkansas University Chooses GeoGreen® Artificial Turf!
Record Time GeoGreen® Installation at Blytheville High School, AR
GEOFLO® SHOCK PAD TECHNOLOGY
GeoGreen® 'Replicated Grass' is enhanced with a dynamic shock pad and drainage blanket (D-layer™), GeoFlo®, to maximize G-Max performance and to provide full area vertical-to-horizontal drainage while minimizing risks associated with aggregate base materials and sub-surface soils. This is accomplished without changing ball-action or the natural feel-under-foot.
Beautiful GeoGreen® turf fields at Louisiana Tech University featuring GeoTrax™ Warning Tack.
GEOTRAX® WARNING TRACK TECHNOLOGY
GeoTrax® is the first synthetic filament warning track surface that meets all criteria for NCAA and High School play. The GeoTrax Warning Track technology allows for superior functionality and significantly decreases maintenance. It also eliminates the mold and mildew problem associated with some rubberized warning track surfaces. The surface is spike and cleat friendly and does not create a slip or fall hazard that are common to pour-in-place systems.
'REPLICATED GRASS'
GEOFLO® SHOCK PAD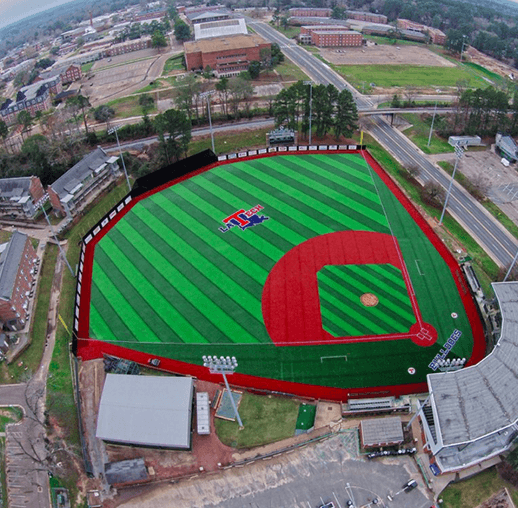 WARNING TRACK