GEOFLO® DYNAMIC SHOCK PAD
GeoFlo and GeoFlo+ are patented high compressive strength, moisture conducting, non-absorbent, geo-composite shock pad made from recycled materials. GeoFlo and GeoFlo+ are pre-fabricated systems that consists of a formed polypropylene core. The core provides a high compressive strength structure that allows water to flow to designated outflows.
The use of GeoFlo and GeoFlo+ greatly reduces risk factors associated with poor subsurface soils. Installation provides an uninterrupted vertical-to-horizontal flow path for superior rainfall evacuation and enhanced G-max performance without changing the ball- action or feel under-foot. The integrity of the system moisture-seal is maintained by use of an impervious bonding tape, which also expands and contracts, thus maintaining the function of the integral expansion joints. Contact us now for synthetic grass shock pad underlay for artificial turf.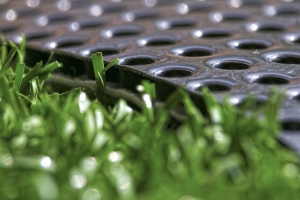 MADE FROM RECYCLED MATERIALS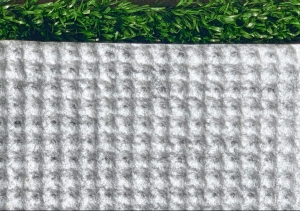 REDUCES PLAYER INJURIES
LONG DURABILITY
PATENTED DESIGN
MADE IN USA
HIGHLY RESISTANT